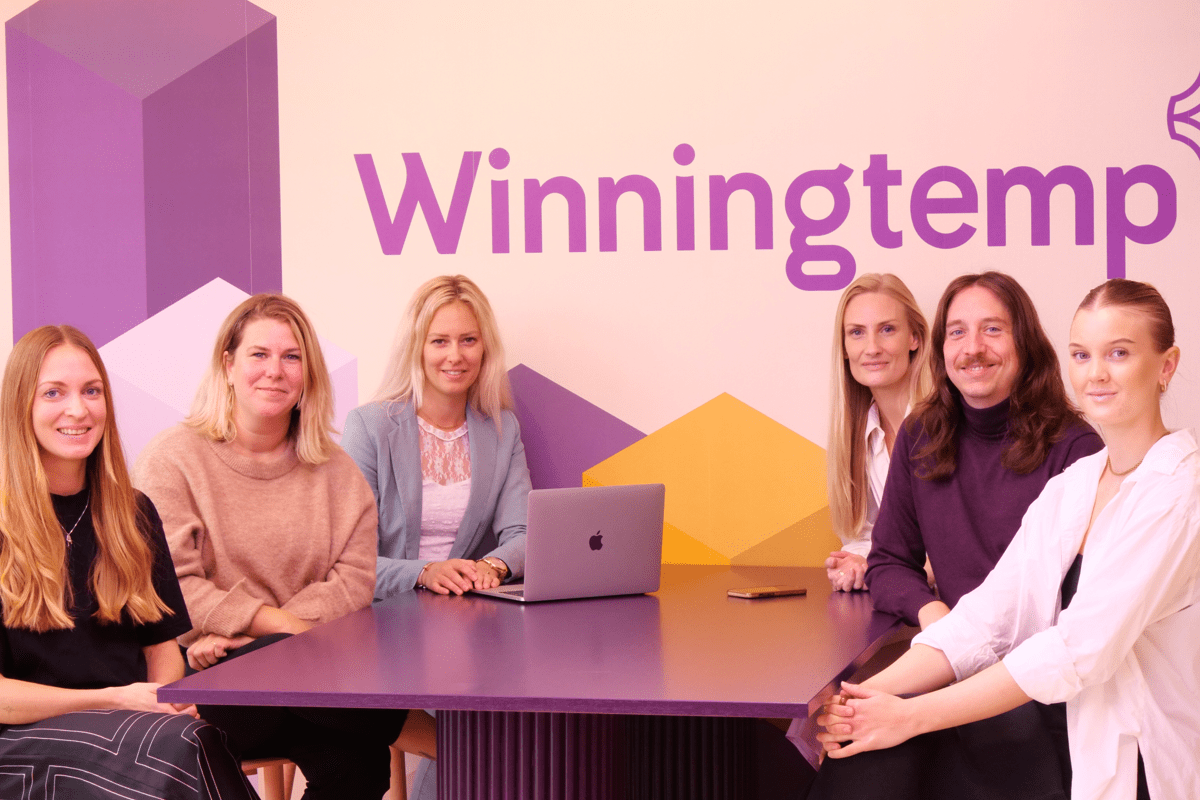 We are the voice of Winningtemp!
Hey hey hey! 👋
Here is our Marketing team!
They are a super ambitious team, known within the company for positive vibes, bringing great content to our customers and building brand awareness.
They have a great mix of experience, from design creation, writing, HR and product marketing.
Everyone in the team loves hanging out, especially outdoors, try new things and collaborate with other departments.
If you want to join this kick-ass squad, you need to be:
Kind and authentic
Positive, there is always a solution!
Passionated about what you do and a willingness to learn from others

Our focus during 2022:
Keep enhancing brand awareness in all our markets
Create outstanding content
Market our new features and modules in the platform
Perfecting brand positioning
Generating interest and market demand
Supporting Sales, Customer Success and Product


Connect with us here on our career site, and you will get emails when we have open positions to our Marketing team 💜

Your growth journey starts here, with us!
At Winningtemp you become a member of a group that's characterized by passion, responsibility, curiosity and result focus. You get the golden opportunity to participate in the development of a company that is going out into the world on a vigorous expansion trip, and we really need a diverse staff to reach our growth goals. Additionally, you will be working with a product that enhances the well-being and job satisfaction of organizations and their employees.
Why join our purple team?
A job filled with purpose

The most fantastic thing about our job is that we can help increase wellbeing at both our own and other workplaces around the world. With Winningtemp's intuitive platform we give every employee a voice, and an opportunity to work continuously together to improve our work environment every day. This is truly a purpose filled company! At Winningtemp we are curious and innovative, and open to learn new things daily to improve the lives of millions.

We reach for the stars

You are not only joining Winningtemp as an employee but as an integral part of a team growing from a start-up to a scale-up. We are all taking ownership for our future, and we know that we are stronger together. Therefor we believe we get results together, as a team. When you join us, we can promise that it will be a speedy and exciting trip!

Growth and personal development

We are growing at a rapid pace, and we need ambitious people who are willing to think outside the box and work together to build this company. You will get a chance to test new solutions and cultivate your skills at Winningtemp, and we see every day as an opportunity to learn. Everything is far from perfect, but we are committed to take responsibility so that both our company and our employees continue to develop.

Create history

Be a part of creating history. By 2023, our goal is to make an impact on more than 2.5 million people through our product.


The purple family 💜

When joining Winningtemp you join our purple family – yes, we love purple! With us you will find high energy and friendly people helping each other to succeed together. You are likely to find friends, not just colleagues, and we show passion, not only for our product and the job we do every day, but also for each other.
We promise you; you will be amazed!