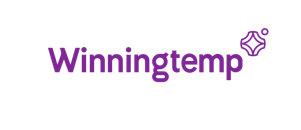 To forever change how people succeed together
As a team we are passionate about making the world a better place by helping people to be happier, more productive and promoting meaningfulness. Today we are a happy bunch of 100+ people with big dreams and bigger ambitions.

If you enjoy working at a fast-paced, agile, and goal-driven startup, you might be our next co-worker!
Why join our purple team?
A job filled with purpose

The most fantastic thing about our job is that we can help increase wellbeing at both our own and other workplaces around the world. With Winningtemp's intuitive platform we give every employee a voice, and an opportunity to work continuously together to improve our work environment every day. This is truly a purpose filled company! At Winningtemp we are curious and innovative, and open to learn new things daily to improve the lives of millions.

We reach for the stars

You are not only joining Winningtemp as an employee but as an integral part of a team growing from a start-up to a scale-up. We are all taking ownership for our future, and we know that we are stronger together. Therefor we believe we get results together, as a team. When you join us, we can promise that it will be a speedy and exciting trip!

Growth and personal development

We are growing at a rapid pace, and we need ambitious people who are willing to think outside the box and work together to build this company. You will get a chance to test new solutions and cultivate your skills at Winningtemp, and we see every day as an opportunity to learn. Everything is far from perfect, but we are committed to take responsibility so that both our company and our employees continue to develop.

Create history

Be a part of creating history. By 2024, our goal is to make an impact on more than 4 million people through our product.


The purple family 💜

When joining Winningtemp you join our purple family – yes, we love purple! With us you will find high energy and friendly people helping each other to succeed together. You are likely to find friends, not just colleagues, and we show passion, not only for our product and the job we do every day, but also for each other.
We promise you; you will be amazed!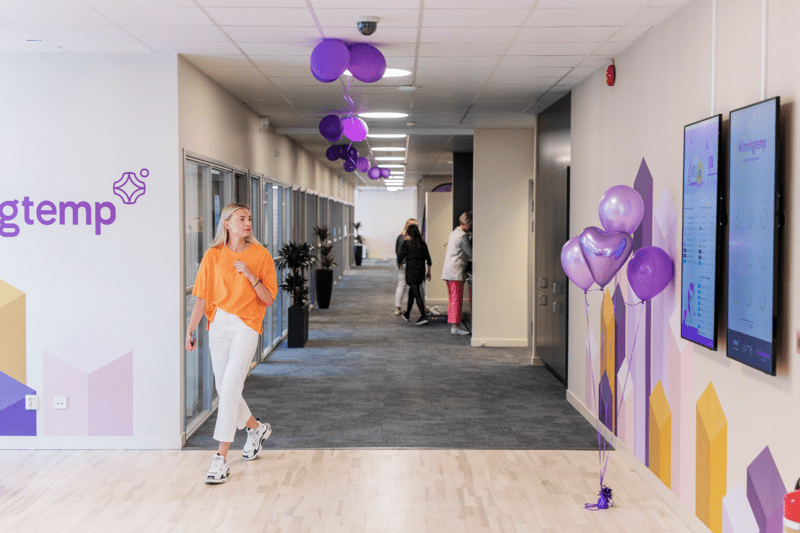 Your growth journey starts here, with us!
At Winningtemp you become a member of a group that's characterized by passion, responsibility, curiosity and result focus. You get the golden opportunity to participate in the development of a company that is going out into the world on a vigorous expansion trip, and we really need a diverse staff to reach our growth goals. Additionally, you will be working with a product that enhances the well-being and job satisfaction of organizations and their employees.
Meet your future colleagues
The most I like about our company is the people and the culture. It is unbelievable how nice and helpful everyone is. For me, it is important to work at a place where you know you will be supported and heard. Also, I like to be challenged at work, it keeps me going, and I feel that Winningtemp is a perfect place to find this challenge, everyone here thrives with improvement and growth. It motivates me a lot!

Kateryna Kozlova

Web Developer/Test Automation Engineer

I have a lot of fun at work and believe we have a culture that embraces and reminds us to have fun! I value that I work with people I find competent at what they do but also eager to learn more. Working with software and science I think offers me a workplace where there's always knowledge available for me to learn from and that aspect of Winningtemp I like a lot. Winningtemp offers a creative environment in which I am trusted to try new ideas!

Amy Disley

Customer Success Manager

The opportunity to work in a company that is so up-to-date in terms of product, wonderful colleagues and to be involved in influencing my own working day, is one of the things that meant the most to me when I chose Winningtemp as my workplace.

Ola Riise Bjørnebye

Customer Success Manager

The positive work culture is the reason why I enjoy working at Winningtemp, it makes me feel motivated and keeps me inspired! The culture encourages innovation and learning, which allows me to be creative and gives me time and space to continually grow my knowledge and develop new skills. It also encourages us to work as a team where we see the value of sharing and listening to each other.

Andrej Maslovski

Backend Developer
Sneak peek inside Winningtemp
It is natural for us to use our own tool to give the best possible employee experience at Winningtemp. We continuously measure our employees' well-being, view on leadership and team spirit. Each month, the leader then runs a "temp workshop" with the team in order to follow up on the results.
So why are we telling you this? Well, we think you are entitled to see what your new, potential colleagues actually think, beyond flashy Employer Branding efforts.

Below you can see, in real-time, how we at Winningtemp experience leadership, team spirit and what our average temperature looks like.

About Winningtemp
Winningtemp is an AI-powered, intuitive platform that measures and optimize your employee experience to reduce stress, staff turnover, and increase profitability.

Our goal is to foster work environments conducive to growth, productivity and team collaboration. Winningtemp's platform enables leaders to understand their employees' needs, concerns, and motivation levels. Real results follow. After a year of using Winningtemp, our customers record, on average, a 21% increase in job satisfaction amongst their employees. Our vision is to forever change how people succeed together!
Already working at Winningtemp?
Let's recruit together and find your next colleague.